Testimonials
Just a short note to let you know that we were really pleased with the individual items, that Shaw Stairs Ltd made for our new house. We have had numerous complimentary comments from visitors, and my clients regarding staircase etc. Your staffs were also courteous and professional, I will definitely be recommending Shaw Stairs again.
My husband and I would just like to say how delighted we are with our recent staircase renovation. From the initial enquiry right through to the completion of the project the service we received was first class. It was a real pleasure to do business with your company and would have no hesitation in recommending you to others.

Please pass on our thanks once again to everyone involved.
Kind regards
John and Karen Hayes from Milton Keynes
Wow! What a transformation! Just wanted to say thank you for our staircase renovation. Excellent job, first class in every respect and superb craftsmanship. Your team were a pleasure to have in the house and nothing was too much trouble for them. Thank you,
Jim & Clare Cooksley, Cardiff
What a great company, from the first meeting with Chris (designer) to plan our new stairs, through to the survey with Chris, to the fitting carried out by Brian and Jowel (whose workmanship is exemplary). All concerned made this a pleasant experience. We are absolutely delighted with the end product and wouldn't hesitate to recommend Shaw Stairs to anyone.
Wayne and Helen, Warwick
"I must let the world know what a fantastic job your guys did, with oak and glass, to remodel our staircase. It is stunning and the care taken with tiny details has been quite amazing. Moreover, it was a pleasure to have the pair of them in our home. Permanent smiles on their faces, obviously loving the job and proud of the result, Great stuff, Thank You All."
Mr & Mrs Bolton, Chepstow
Posted on
10th January 2014
Comments (3)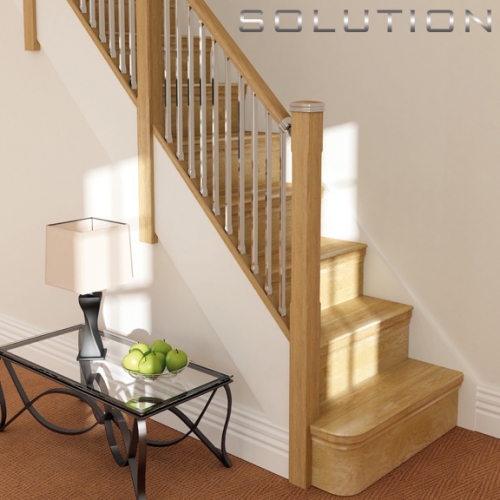 This Solution Stair Parts range blends the beauty of reflective metallic detail with the gorgeous organic warmth of high quality timbers. Available in a variety of materials including Oak, Walnut and Pine, these stairparts combine modern materials like Brushed Nickel and Chrome with traditional styling and a classic Handrail to Newel configuration.
Tracy Land
9th April 2014 1:49pm
Can you let me know when the newel caps in the solution range in oak/brushed nickel come back into stock please
Mrs Franklin
12th July 2014 1:28pm
Hi, I have been looking at your stair parts & now have a headache ha. I am going to call a joiner to have a look at my existing staircase but I just wanted to get a rough idea of how much I'm looking at for a solution staircase. It like the brushed steel effect & the more slim line connection / fitter where it joins the base rail & handrail. I'm not keen on the bracket type connected. I started filling in a order form but to quite honest I havnt a clue what I need. For example why is there such a vast price difference on the oak & hemlock woods.? I would like a pale look not a yellow pine type colour. Would oak or Hemlock do the job ? Plus on 1 of the photos you have a newel post which has a metal conecter half way down the post, what do I look for to get one of those as I can't seem to find one on the order sheet. I did try calling but didn't get any answer. My telephone is 01482 864222 if anyone is free to give me a call sometime.
Mark Downing
21st August 2014 8:20pm
Hello

Can you get the solution spindle in 1100mm long

Regards Mark (07715236442)
Leave a Comment